Since we are natively nested within SugarCRM, just type the target's name in your Sugar Toolbar's search bar to access the target's record complete with the Timeline Intelligence Report.  The Timeline Report is available via a sub-panel in every Account, Contact, Lead or Target that you have synchronized with INBOX25.
Our Marketing Automation platform's mantra is to enhance your CRM, not dominate it. We made your Timeline within Sugar completely collapsible so you can access it when you need to, and hide it when you don't.
Timeline tells a detailed, visual story about the target's history with you and your company. It starts with how the target became a record in your CRM. From there, you can trace every time your company reached out to the target and how the target reacted to it.
You can easily filter by specific data-types and expand certain metrics to reveal addition data with a single click.  The profile manager has been overhauled to allow for in-line editing of custom data fields and we added several point and click actions to the new Manage menu.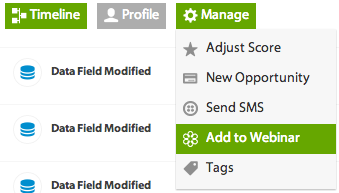 Timeline Intelligence Report provides insight into:
Total Interactions
Tracks (Automated Campaigns they've been touched by)
List Membership
Email Activity (Sent, Opened, Bounced)
Email Click-thru Activity
Web Site Activity
Landing Page Visits and Conversions
Social Interaction (Facebook, Twitter, Linkedin)
Logged Calls, Meetings
Lead Score Changes
Lifecycle Stage Changes
Data Field Changes/Updates
Tags
Geographical Location
Lead Source
Opportunities (SugarCRM)
Gravatar Profile Picture or Twitter Profile Picture
Webinar Regestration
Chat Sessions Held
SMS 
There are several cool ways to filter your Timeline to display specific interactions, such as Email Opens or Web Site Activity.
You can also filter by time period, including: Last 30 Days, Last 60 Days, Last 90 Days, Last Year, or All History.